Department Of Computer Engineering
Department Of Computer Engineering
Computer Engineering Department established in 1985 with the vision to produce world class quality computer engineers. PG in Computer Engineering started in 2014. Since its inception the Department has gained reputation in the S P Pune University as a renowned department for its quality in academics and treating students and alumni as Ambassadors of institute. More than 1500 alumni are working in India and abroad in leading multinational companies, government and various research organizations such as IBM, CAPGEMINI, SYNTEL, TCS and renowned top industries. The department has an environmental friendly infrastructure, well equipped laboratories and qualified, experienced staff.
Research and consultancy is the prime activity in the department. Several faculties have published and presented research papers at national and international level. All computers in the laboratories are connected by wireless and CAT6 cables.
Quality Policy Statement of Department
To develop Computer Engineering graduates capable of exhibiting leadership, creativity and skills for improving the quality of life.
To provide a platform for self-learning to meet the challenges of changing technology and build leadership qualities to succeed in professional career.
Collection of Knowledge from Experimentation, research, literature and simulation. Imparting critical thinking, team work, effective communication and responsibility towards society.
Sr. No.

Name of staff


Designation

Qualification

Experience
in Yrs.

Email id (Official)

Contact No.

Research Profile

Nature of Association

1

Dr. M. R. Bendre

Head & Associate Professor

M.Tech CSE, PhD CSE

15

mininath.bendre@pravara.in

9970846947

Regular

2

Mr. S. M. Rokade

Associate Professor

M.E. CSE

27

sharad.rokade@pravara.in

8329239001

Regular

3

Dr. V. P. Vikhe

Associate Professor

M.Tech CE, PhD IT

17

mandharevv@pravaraengg.org.in

9960037626

Regular

4

Mr. S. D. Jondhale

Assistant Professor

M.E. CSE

16

jondhalesd@pravaraengg.org.in

9975886782

Regular

5

Mr. K. D. Tamhane

Assistant Professor

PhD (Pursuing),M. E. C.E.

15

kapil.tamhane@pravara.in

9960424247

Regular

6

Dr. S. K. Korde

Associate Professor

M. E., Ph.D.

15

sachin.korde@pravara.in

9890773435

Regular

7

Mr. M. D. Nirmal

Assistant Professor

PhD (Pursuing), M.Tech C.S.E.

15

nirmalmd@pravaraengg.org.in

9975710023

Regular

8

Mr. P. B. Vikhe

Assistant Professor

M.E. C.E.

13

vikhepb@pravaraengg.org.in

7972006866

Regular

9

Mr. M. R. Kharde

Assistant Professor

M. E. C.S.E.

10

khardemr@pravaraengg.org.in

9762646821

Regular

10

Mr. B. B. Vikhe

Assistant Professor

PhD (Pursuing),M.Tech.CSE

08

vikhebb@pravaraengg.org.in

9579770770

Regular

11

Mrs. M. R. Parkhe

Assistant Professor

M.E.

08

narotemn@pravaraengg.org.in

7083106711

Regular

12

Mr. D. S. Rakshe

Assistant Professor

PhD (Pursuing),M.E. C.E.

07

jay.rakshe@pravara.in

7440407474

Regular

13

Mr. G. B. Kote

Assistant Professor

PhD (Pursuing),M.Tech C.S.E.

09

kotegb@pravaraengg.org.in

9623080901

Regular

14

Mr.S.V. Mahajan

Assistant Professor

PhD (Pursuing) ,ME (IT)

13

mahajansv@pravaraengg.org.in

8805325897

Regular

15

Ms. S.P. Hatkar

Assistant Professor

ME CSE

3.4

khemnarsd@pravaraengg.org.in

7057382754

Regular

16

Ms. T.B. Katte

Assistant Professor

ME Computer

5

kattetb@pravaraengg.org.in

9766201388

Regular
Topper students
1 / 7
Mr. Gopal Wagh selected in MIDAS with 12.6 LPA
2 / 7
Mr Yashwant Jain selected in IQVIA with 12.0 LPA
3 / 7
Miss. Rutuja Dighe selected in CREDIT SUISSE with 12.0 LPA
4 / 7
MS. Aditi Nimbalkar selected in TIAA with 10.48 LPA
5 / 7
Miss. Meghana Devhare selected in TIAA with 7.0 LPA
6 / 7
Mr. Vikas Khemnar selected in TIAA with 7.0 LPA
7 / 7
News Highlights
| | | |
| --- | --- | --- |
| Sr. No. | Name of the Laboratory | Name of the Lab Incharge |
| 1 | Open Source Lab | Mr. G. B. Kote |
| 2 | Lab-Practice Lab | Mr. D.S. Rakshe |
| 3 | Software Lab | Mr. P.B. Vikhe |
| 4 | Computer Graphics Lab | Mrs. M.R. Parkhe |
| 5 | Hardware Lab | Mr. M. R. Kharde |
| 6 | Multimedia Lab | Mr. B. B. Vikhe |
| 7 | PG Lab | Dr. V. P. Vikhe |
| 8 | Class Room No. 19 & 20 | Mr. S. D. Jondhale |
| 9 | Class Room No. 17 & 18 | Mr. S. D. Jondhale |
| 10 | Central Computing Lab | Mr. S. V. Mahajan |
| 11 | Language Lab | Mr. M. D. Nirmal |
Activities
Industrial Visit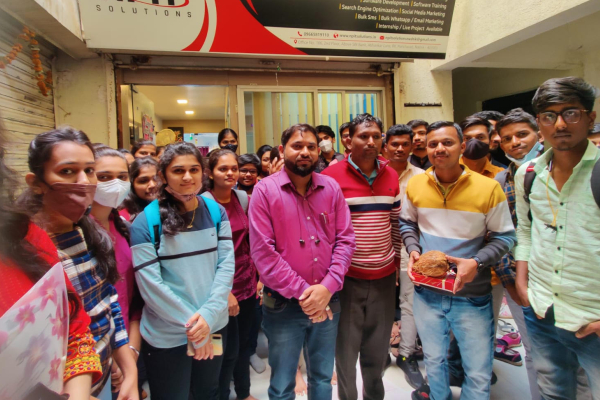 Distinguished Alumni